Dave Brown Designs Country Store
Store Hours: Tuesday-Friday 10 am to 4 pm Saturdays by Chance All other hours by appointment.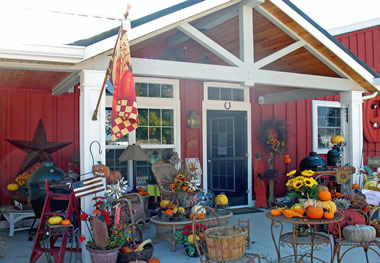 Along the Midwest's country roadside is a pleasant surprise called Dave Brown Designs Country Store. A large white, red shuttered farmhouse shares the 5-acre corner on the Ohio-Indiana Stateline. It is located at the junction of Ohio State Route 2 and Indiana State Route 37 just a short country drive east of Fort Wayne, Indiana. Gardens of perennials and beds of annuals surround the separate areas of the property flanked by a white, rail fence and country red barns.
Rocking chairs on the front porch of the Country Store are a popular place to relax as many customers and tourists catch a glimpse of peaceful, rural life. The covered porch is a haven for a few antiques, rustic and wicker patio furniture and outdoor decorating items. Linger a while around the windmill in the adjacent country flower garden strewn here and there with one-of-a-kind whimsical things and recycled antique stuff.
Most of the summer, the old wood screen door lets the breeze in as an array of glass jars filled with nostalgic candy favorites and baskets of yummy gourmet foods greet you at the door. As you enter, the spicy scent of country candles fills the air in the room as you follow the old, wood plank floor through the eclectic mix of rustic, primitive, country and holiday store items. Discover everything from jewelry, wind chimes, coffee and teas, jams and jellies, unique collectibles and interesting trendy treasures.
Here gift wrapping is complimentary year round and the Christmas Open House is a must see event. Well attended and much anticipated, the Christmas Open House showcases many original holiday decorating and gift ideas. Visitors enjoy door prizes, refreshments, along with the sights and sounds of an olde, country Christmas. Sometimes the farmhouse is extensively decorated and open to tour during the annual Christmas Open House event.
A favorite room in the country store, which is called the recreation room, is a great party place, available for rental, decorated with a black and white checkerboard floor, school and sports memorabilia, comfy sofas and chairs, and assorted board games.
In the fall, a huge variety of pumpkins sprawl out on the front yard of the Dave Brown Designs Country Store. Corn shocks, colorful mums, Indian corn and assorted gourds and tiny pumpkins are displayed among the many yard ornaments and garden trinkets for sale. A Fall Festival is held the last weekend of September with an assortment of craft vendors, a variety of food from the Country Grill, and fall-related contests, games and prizes.
ANNUAL EVENT SCHEDULE:
Fall Festival – September 23, 2017.....9 am to 3 pm.....Contact us for arts/crafts vendor booth
Christmas Open House – November 3 & 4, 2017.....10 am - 4 pm
Like us on Facebook for the latest event info, specials, coupons and contests!
WE WELCOME YOU TO VISIT DAVE BROWN DESIGNS COUNTRY STORE FOR UNIQUE GIFTS & DÉCOR FOR YOUR HOME AND YOUR FRIENDS . . . AND DON'T FORGET TO BRING A FRIEND.